堀内辰男のエクセルで描くパソコン画
PASOKONGA-paintings by Tatsuo Horiuchi
T.Horiuchi is painting pictures on PC with EXCEL.

Now we open the new Gallery for PASONGA-paintings by T.Horiuchi
in parallel with the Original Home page:
http://www2.odn.ne.jp/~cbl97790/ keep maintained..
and please visite following gallelys additionaly.

http://www2.odn.ne.jp/~cbl97790/shinsakutenjishitu.htm
http://www2.odn.ne.jp/~cbl97790/shinsakutenjisitu2.htm
Paintings shown in this galley are drawn and painted with EXCEL originally
and transformed into JPG , because of the capasity reduction.
For farther information , click "PASOKONGAKA " and you can contact us.

New introductory explanation of Excel-Art in English is opened
Lets bigin Excel-Art together with TatsuoHoriuchi
Works by the Members of ExcelArt Session
at Jonuma Community Center , Tatebayashi.

ExcelArt教室
 ExcelArt教室は館林市の城沼公民館で第一グループが第1・3火曜日
第二グループが第2・4火曜日の13時半より約2時間開着ます。


H29年度「エイジレス章」(内閣府)を拝受
The Ageless Emblem was awarded by the Minister for the Cabinet Officer
http://www8.cao.go.jp/kourei/kou-kei/h29ageless/jissen.html#kanto_koushinetsu
授賞理由に曰く;
表計算ソフトExcelを駆使し、浮世絵や日本画の様な作品を描くExcel画家。
国内外で高く評価される、IT活用によるイノベイティブな取組である。
会議資料のカラフルな図形から、表計算ソフトで絵を描くことを発想、
定年退職目前にパソコンを購入して挑戦を始め、6年後には「Office」の活
用情報サイト「moug」のオートシェイプ画コンテストで大賞を受賞。
公民館でExcel画教室の講師を務め、身近な表計算ソフトで絵を描く楽しさ
を伝えている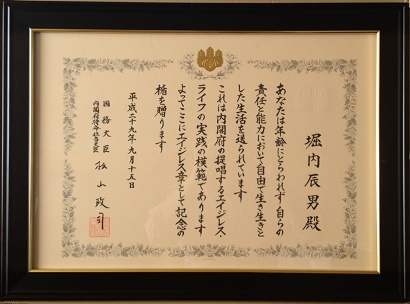 順次パソコン画をUPしていきますのでよろしくお願いいたします
           Clicking the small paintings listed hereunder, the large picture will come out.