堀内辰男のエクセルで描くパソコン画
PASOKONGA-paintings by Tatsuo Horiuchi
T.Horiuchi is painting pictures on PC with EXCEL.

Now we open the new Gallery for PASONGA-paintings by T.Horiuchi
in parallel with the Original Home page:
http://www2.odn.ne.jp/~cbl97790/ keep maintained..
and please visite following gallelys additionaly.

http://www2.odn.ne.jp/~cbl97790/shinsakutenjishitu.htm
http://www2.odn.ne.jp/~cbl97790/shinsakutenjisitu2.htm
Paintings shown in this galley are drawn and painted with EXCEL originally
and transformed into JPG , because of the capasity reduction
.
For farther information , click "more information " and you can contact us.

New introductory explanation of Excell-Art in English is opened
Lets bigin Excell-Art together with TatsuoHoriuchi

Works by the Members of ExcellArt Session
ExcellART教室の皆さんの作品
at Jonuma Community Center , Tatebayashi.

ExcellArt教室
 ExcelArt教室は館林市の城沼公民館で
第2・4火曜日の13時半より約2時間開きます。
参加希望者はパソコン持参で教室にお出で下さい。

H29年度「エイジレス章/ライフ実践者」(内閣府)を拝受
The Ageless Emblem was awarded by the Minister for the Cabinet Officer
https://www8.cao.go.jp/kourei/kou-kei/h29ageless/jissen.html

授賞理由に曰く;
表計算ソフトExcelを駆使し、浮世絵や日本画の様な作品を描くExcel画家。
国内外で高く評価される、IT活用によるイノベイティブな取組である。
会議資料のカラフルな図形から、表計算ソフトで絵を描くことを発想、
定年退職目前にパソコンを購入して挑戦を始め、6年後には「Office」の活
用情報サイト「moug」のオートシェイプ画コンテストで大賞を受賞。
公民館でExcel画教室の講師を務め、身近な表計算ソフトで絵を描く楽しさ
を伝えている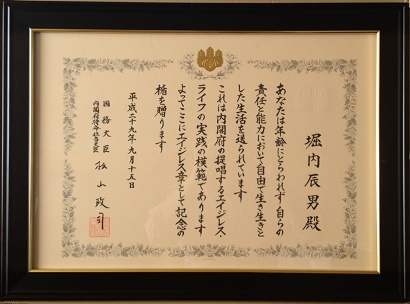 メデイアで紹介された主な記事
CNN Great Big Story https://www.youtube.com/watch?v=OrwBc6PwAcYhttps://www8.cao.go.jp/kourei/kou-kei/h29ageless/jissen.html
AFPBB News http://www.afpbb.com/articles/-/3103318
NHK国際放送 https://www3.nhk.or.jp/nhkworld/newsroomtokyo/pickandsearch/2018052501.html
マネたま https://www.manetama.jp/report/horiuchi-tatsuo-1/
日経パソコン http://itpro.nikkeibp.co.jp/article/COLUMN/20130612/484503/

本を出しました
タイトル:「パソコンで描く『絵』の描き方」 出版社:マガジンランド
通販なら「堀内辰男の本」で検索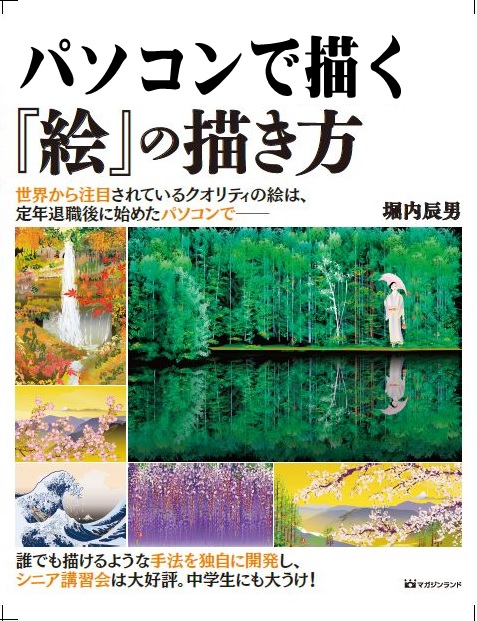 順次パソコン画をUPしていきますのでよろしくお願いいたします
           Clicking the small paintings listed hereunder, the large picture will come out.
And when you wont to contact me, please click mailto;
pasokongaka
If you want such small size copy as size:A3(42cm*29.7cm),it is possible to print on such small paper.
and the price of this is JP\6500, and the cost of air parcel Is JP\3000.
For this case, we will send the invoice by e-mail through PayPal system according to your information what you want to buy.